May 8, 2021
Posted by:

inco_n1kpkl

Categories:

News, Uncategorized

Remote Work Policy Set Up Guide for Business Owners
Working remotely has become essential to most business practice, especially in the context of COVID-19. Without a solid remote working environment set up for you and your employees, you'll find yourself behind the ball in a number of different areas. Working from home is essential now, as things will likely not return to a semblance of normalcy for a long time, and working from home is proving to be more effective, safer, and efficient. For over 30 years, Interwest Communications has been helping businesses of all sizes stay connected by providing business telephone systems, structured cabling infrastructure, and data networking services. Given our experience, we'll try to take you through what you need to do to set up policies and procedures for remote work. 
Remote Work vs. Working from Home
First, it's important to know the difference between a remote work policy and a work-from-home policy. There's a difference between a remote worker and someone who works from home, although the two terms are often used interchangeably. Make sure you distinguish between remote work and working from home in your policies. 
Working from home is considered remote work. However, that employee isn't technically a remote employee. They just have the flexibility to work outside of the main office, so they might be considered someone who just works from home once in a while. Working from home implies a temporary or occasional situation, like a parent who works from home occasionally to accommodate their children's school schedule, or wait for a repair person to fix their washing machine. Working from home can also suggest that the employee doesn't necessarily have a dedicated workspace. In the case of employees who only work from home once in a while, that could mean they're working at their kitchen table or on their patio because they don't have a separate home office.
On the other hand, remote work can literally mean working from anywhere, and it describes a more permanent arrangement. Working remotely generally means that the employee lives too far away for commuting to be feasible on a daily basis or they regularly travel for business and work at multiple or varying locations.
During the COVID-19 pandemic, remote work was likely initially seen as a temporary measure. However, when employers see the advantages of working remotely and can put procedures in place to support employees, it will become a viable way for companies to continue operating in the future and will offer employees more flexibility. 
What Should be Defined in a Remote Work Policy
When creating a remote work policy, the best place to start is with your existing work policies. Though telecommuting comes with unique challenges for both employers and employees, you should try to maintain continuity in work policies. Using existing workplace policies provides a  template to work from, instead of completely starting from scratch. The first step is to identify the processes that are changing. Depending on the nature of the business, you may not need to make drastic revisions to your existing policies. However, the nature of work-from-home policies often requires you to adapt certain processes.
Compensation and Benefits: Specifies core work hours, adjustments to compensation if appropriate, and overtime policy.
Office Equipment and Dedicated Workspace: Defines what is provided by the business and the responsibilities of the employee, including mobile devices, laptops, adequate access to internet service, VPN access, software duplication policies, damage or theft of company property, and data security. 
Covered Expenses: Indicates what (if any) expenses qualify for reimbursement. Examples include internet service, supplies, or office furniture.
Liability/Workers' Compensation: Specifies policies that include injuries at home, the protection of company assets from guests or residents, and any additional insurance requirements.
Communication: Establishes methods and availability for online and offline communication, including security for remote device access.
Goals and Expectations: Notes methods for measuring and reporting on success, as well as any additional participation that measures the remote work experience.
Required working hours: Scheduling is massively important. Some businesses require workers to be present on certain times or days of the week. Establish a set schedule for your employees, but leave it open to change as needed. If you need workers available outside of normal working hours, you'll need to consider a rotating schedule or flexible schedules for some workers.
Eligibility: Your employees need to know who is eligible to work from home. Additionally, employees must know if they are allowed to work from home for some or all of their assigned work activities.
What a Remote Work Policy Should Include
In addition to the basics, a remote work policy should place emphasis on specific processes that come with certain challenges with remote work. 
Establish Clear Communication Protocols
Clear communication is a must in a remote work environment. For many workers, that means outlining expectations for all departments and roles. Define how and how often should managers connect with remote workers. 
Decide how employees are required to communicate with coworkers and clients. This means setting safe methods of communication and educating employees on how to use them. Many businesses use video chat and call software like Skype for Business and Zoom.
Establish Clear Goals & Productivity Metrics
It's essential to make sure objectives are clear to all team members. Beyond applying SMART (specific, measurable, achievable, realistic, and timely) goals, there should also be regular check-ins to see how people are progressing (both personally and professionally), and discussing ways of resolving challenges while providing ongoing support. Things to keep in mind while creating a remote work policy:
Results-driven productivity –  This means looking more at the end results of a task or project than how it was achieved. Embracing remote work means trusting employees to work in a way that suits them in order to achieve results and outcomes. 
Keep employees informed – Whichever methods you use to measure productivity, let your employees know about them. If they're going to be assessed on time spent on a project or how many touches they took to make a sale, specify these types of metrics. 
Remain organized – A good task management tool will help keep an eye on how tasks or projects are progressing. Assign tasks, discuss progress as a team, and see how much progress has been made. Having a visual representation often helps managers understand what adjustments might need to be made.
Prioritize Data Security
Previously, remote work was considered a security risk, and the increased usage of video conferencing applications in the pandemic augmented those concerns. Zoom has many known security issues, and the need to protect a network and work calls from intrusion has become vital. 
In the absence of a secure and centralized computer network, businesses need to be explicit about how employees are expected to handle confidential business data. Make sure you include in your plan and policies:
Rules regarding using personal devices for work purposes
Guidelines on automatic device locking
Use of a VPN, or virtual private network, when connecting to an unsecured Wi-Fi network
Use of two-factor or multi-factor authentication
Provide the Right Tools & Resources
If you need employees to work from computers or mobile devices, you may need to provide equipment for them to use exclusively for work. Policies need to state who provides it, who sets it up, and who's responsible for it. It should also include any rules around using equipment.
While employees are generally expected to have a reliable remote work environment, you will need to help those who do not have access to stable WiFi or phone service. In any case, you must develop a process to approve work-at-home environments. This will help you ensure the security of your business data and the productivity of your stay-at-home workers.
According to Stanford economist, Nicholas Bloom: "…only 65 percent of Americans reported having fast enough internet capacity to support workable video calls. The remaining 35 percent have such poor internet at home – or no internet – that it prevents effective telecommuting."
A quality internet connection is a must for remote work and video conferencing, and if employees are struggling in that regard, employers should consider offering incentives to upgrade, or reimburse employees. 
Additionally, business owners will need to give employees access to the right security and project management software. Staying connected with the workforce means more than back-and-forth via Email and phone, it means integrating remote and video driven collaboration technologies, like Call2Teams. As Matt Bochenski puts it, 
"But communication is one of the greatest challenges for managers and employees when it comes to remote working. Lack of it can lead to poor performance, and ultimately, isolation, which is the most common problem among remote workers." 
Regular communication is always important, but Email, instant messages, phone calls, and text messages are not enough when they're no longer supplemented with the in-person communication that is available in the workplace. 
Paul Burrin, Vice President at Sage People proposes, "Ultimately, organizations should strive to deliver the best employee experiences possible. Great experiences help drive motivation and engagement, improve productivity and retain your best people." 
Video conferencing provides a more complete social experience for more effective communication and teamwork. Text on a screen or words over a handheld are not always enough to properly express the whole sentiment being conveyed. In addition to the words used, the tone of voice, inflection, facial expressions, and body language are all important parts of personal communication. Being able to see and hear a manager or colleague in real time provides that layer of personal interaction that you don't get over the phone or through Email, which is key for successful collaboration. 
Why Businesses Need a Remote Work Policy
The pandemic has dramatically changed the world of work. According to Stanford economist, Nicholas Bloom:
"We see an incredible 42 percent of the U.S. labor force now working from home full-time. About another 33 percent are not working – a testament to the savage impact of the lockdown recession. And the remaining 26 percent – mostly essential service workers – are working on their business premises. So, by sheer numbers, the U.S. is a working-from-home economy. Almost twice as many employees are working from home as at work."
With the pandemic, businesses need to keep up with the times and maintain productivity, no matter what the world is throwing at us. Here are some of the benefits of remote work in addition to  staying safe and healthy during a pandemic:  
Remote Work is Green
Companies can institute remote work policies as part of their environmental sustainability initiatives. This results in reduced car traffic, less energy use in offices, and a smaller real estate footprint.
More Employees to Choose From
A company that hires remote employees can cast a wider net when recruiting talent. They can hire someone who lives in a different city, or even a different country, without persuading (or paying) them to move. This is an important advantage when recruiting for a specialized skill set.
Expanded Workforce Diversity
Diversity initiatives are also a big part of contemporary corporate culture. An important goal of these programs is hiring people who are differently abled, but it's difficult to accommodate people who have disabilities that prevent them from commuting to the office.
A Remote Work Policy Helps Employees Feel Secure 
Remote work is new territory for a lot of people. A clear and detailed telecommuting policy gives employers and employees the necessary structure and guidance to help navigate this new way of working. 
Challenges of Remote Work
Remote work is not without its challenges. Here are a few that you can expect:
Collaboration & Communication are Difficult
Managing teams and collaborating is a big challenge without face-to-face interaction. Employees can feel isolated. One survey found that 22 percent of remote employees missed the team environment.
Employees & Managers Can be Disconnected
This difficulty communicating and collaborating can be acute in employee-manager relationships. Managers accustomed to seeing their teams work might suspect their employees are slacking off if they don't answer an Email or instant message immediately. Employees might worry that their managers are out of touch when they don't get the face time they were accustomed to. This can make them feel unsupported. Employers need to stay in regular touch with remote employees.
Difficulty Finding Information
Working remotely, particularly for new employees, can make it difficult to get answers to questions or quickly find critical information. Employees often get frustrated with how long it takes to get even simple questions answered.
Technology Challenges
Employees who work remotely often have to do their own troubleshooting. If their laptop doesn't boot, they'll need a way to contact IT for repairs. Remote employees also must deal with their own internet connections. In some areas, internet service can be unreliable, with lag and frequent service outages. The connection can slow down dramatically if the network is overloaded. Some employees may not have the hardware they need, like routers, to make sure their connection is stable. 
Security Issues
Employers are rightly concerned about information security issues created by remote work. Handing an employee a laptop is giving them a lot of valuable intellectual property. Employers want to be sure it's secured properly. For example, an employee could log onto an unsecured Wi-Fi connection at a cafe, and a hacker can easily access their device to extract data, whether that's trade secrets or sensitive customer information.
Overwork
One challenge employers may not worry about is their remote employees working too much. However, burnout becomes a real concern when the work day doesn't have the defined boundaries of arriving at an office every morning and leaving at night. For remote workers, it can be hard to separate work time and space from their personal time and space. In that setting, it's difficult to disconnect from devices, tempting them to log in and work when it would be healthier for them to relax.
A remote work policy should address these challenges and include protocols that help overcome them.  Interwest is here to help employees stay connected during these uncertain times with video conferencing technology that allows them to get the work done from home, with little cost and no time lost. Video conferencing technology, like Call2Teams, is particularly important for remote workers to feel engaged and supported, and remain productive during pandemic isolation.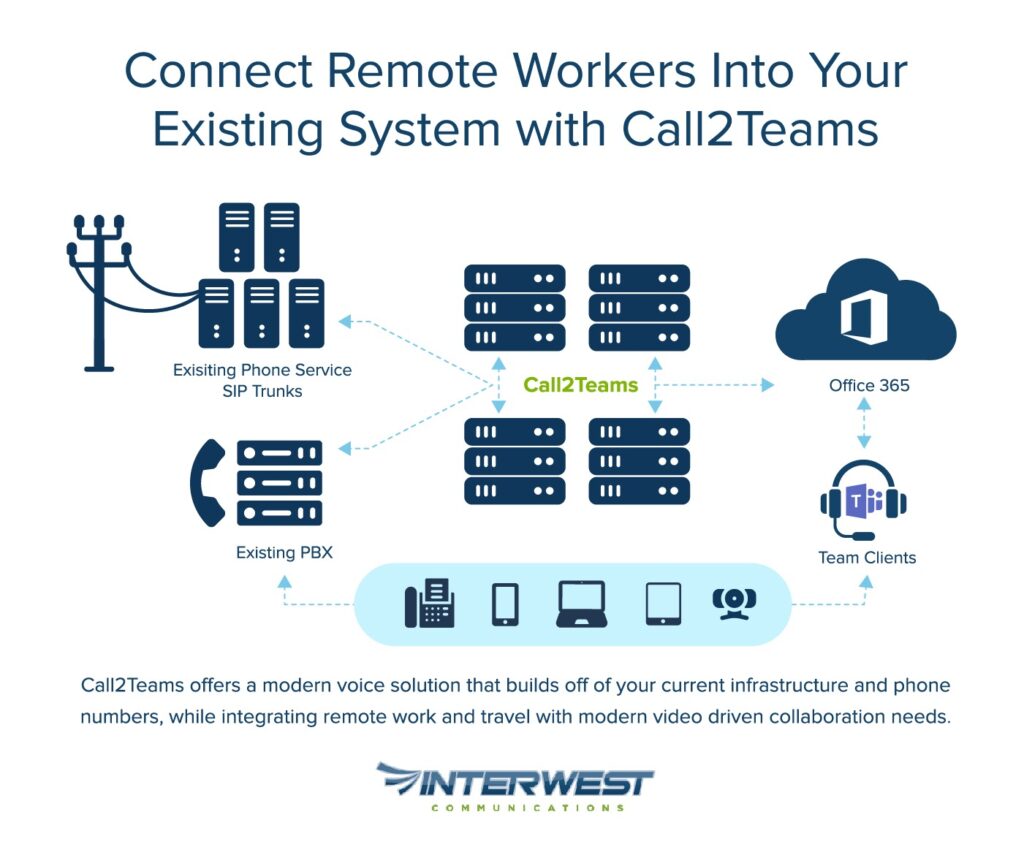 Why Call2Teams is the Best Choice for Remote Work
Call2Teams offers a modern voice solution that builds off the current data network infrastructure and phone numbers, while integrating remote work and travel with modern video driven collaboration needs. With Call2Teams, you don't lose a second of productive work when trying to set up a remote work system. Here are some of the benefits:
Virtually Connect with Call2Teams 
Call2Teams allows you to enjoy modern video conferencing on any device, and remote work collaboration without disrupting your current hardware setup, or initiating any costly updates. The software utilizes existing phone numbers and hardware systems while adding in remote video and collaboration through Teams on PC, Mac, and mobile. Once set up, you can manage the entire system from an easy-to-use web portal. 
Call2Teams is Secure 
Call2Teams is fully secure and approved for use on leading PBXs. Previously, remote work was considered a security risk, and the increased usage of video conferencing applications in the pandemic augmented those concerns. Zoom has many known security issues, and the need to protect a network and work calls from intrusion has become vital. Normally you'd have to deal with setting up firewalls, anti-virus applications, a private network, and cabling. But, with Call2Teams, businesses can extend their secure and centralized computer network with encrypted data transfers, antivirus software, and multi-factor identification to remote workers. A service like Call2Teams paired with quality security protocols, will help you make sure that work keeps running smoothly without intrusion or interruption. 
Call2teams Uses Subscription-Based Pricing 
For businesses that weren't as prepared for the sudden shift to a remote workforce in response to the lockdown, the costs of implementing technologies to enable remote work can be daunting.  
Avoid costly upfront investments in lengthy projects. Call2Teams instead utilizes a pay-as-you-go subscription for individual users. Interwest can customize a plan to fit your business, or you can choose from one of our standard plans.
You don't have to pay for an extraneous amount of superfluous features and equipment your business doesn't need. Interwest Communications can scale the system to meet your needs while reducing costs, without wasting time. We can customize a plan to fit your business, or you can choose from one of our standard plans:
Professional plan (recommended for small and mid-sized businesses)
Local Support Technicians – If something goes wrong, you're not left high and dry, because we're here to help resolve the problem. 
On-site installation & training – Save time on training for all new systems, and headaches for IT departments, our team can work with you to assess your existing set up, and painlessly complete the integration process. 
Keep existing numbers – You don't worry about a lag in communication due to lost contacts.
Unlimited Nationwide Calling – Save money when business expands into new regions.
HD Voice – Calls come through loud and clear so there are no miscommunications and lost opportunities
Voicemail to Email – Easily centralize and manage your communications all in one convenient place.
Premium Plan (includes professional features, plus):
Mobile App – Easily connect with mobile devices, whether tablet or smartphone. 
Find Me / Follow Me – Don't miss an important call, work from anywhere and increase productivity. 
Fax to email – Easily centralize your communications all in one convenient place.
Good for small and medium businesses on the larger side or are anticipating growth
On Premise PBX (includes premium features, plus):
Higher initial cost to get your PBX hardware installed on-site but lower monthly costs
Ideal for a larger organization that already has the infrastructure, bandwidth, and network settings required to host a phone system 
Call2Teams is Easy to Use
Call2Teams is convenient, centralized, and accessible. Everyone knows what a nightmare new technology adoption can be, especially with a diverse workforce with different levels of experience and technical know-how. It's absolutely essential for a thriving workplace to have tools and equipment that are easy to use, so everyone can focus on work. Interwest Communications goes above and beyond to ensure that all the training and assessment needs for new tech are met, so your business doesn't experience significant downtime. 
Save time on training for all new systems, and headaches for IT departments with a simple cloud service. Our team can work with you to assess your existing set up, and painlessly complete the integration process. Once set up, you can manage the entire system from an easy-to-use web portal. 
Interwest Communications for Your Remote Collaboration & Communication Needs
A remote work policy is crucial to survive the shift in how businesses run during a pandemic. A successful policy should emphasize communication and collaboration, technology and resources, and cybersecurity. Providing remote employees the tools and resources they need to communicate and collaborate in a secure setting is key to their workplace success and the success of the company.
Using a service like Call2Teams resolves the vast majority of the challenges associated with remote work. Call2Teams offers a modern voice solution that builds off current data network infrastructure and phone numbers, while integrating remote work and travel with modern video driven collaboration needs. Rather than putting dealing with an amalgamation of different programs and systems with questionable security, our Call2Team Microsoft Teams integration makes implementing a remote work policy easy. Get in touch with Interwest to learn more and start a consultation.