May 8, 2021
Posted by:

inco_n1kpkl

Categories:

News, Uncategorized

Remote Work Considerations
Remote working is on the rise, and it's both effective and efficient. According to a survey done recently, working from home has only reduced overall worker productivity by 1%. In fact, evidence points to many workers becoming more productive, rather than less.
But that doesn't mean that it's easy. Remote work can pose significant challenges, so using this checklist to make sure that you've got all the bases covered will be enormously beneficial to your business.
For over 30 years, Interwest Communications has been helping businesses of all sizes stay connected by providing business telephone systems, structured cabling infrastructure, and data networking services. Given our experience, we'll take you through what you need to do to set up policies and procedures for remote work. 
Potential Challenges of Remote Work
Remote work is not without its challenges. Here are a few that you can expect:
Interpersonal Disconnection
Because they aren't sharing space, communicating and collaborating can be difficult in employee-manager relationships. Managers accustomed to seeing their teams work might suspect their employees are slacking off if they don't answer an Email or instant message immediately. Employees might worry that their managers are out of touch when they don't get the face time they were accustomed to.
Information Loss
Employees often get frustrated with how long it takes to get even simple questions answered. It's essential that any remote working environment is full of responsive workers and resources to help find the information they need.
Communication Difficulties
Managing teams and collaborating is a big challenge without face-to-face interaction. Employees can feel isolated. Making sure that employees are getting face time with co-workers and supervisors regularly is a must.
Safety & Security
Handing an employee a laptop is giving them a lot of valuable intellectual property. Employers want to be sure it's secured properly, and that employees are not using work computers for personal tasks, or leaving them exposed to others using it to access sensitive company information or making it vulnerable to other security risks.
Employee Overwhelm
One challenge employers may not worry about is their remote employees working too much. However, burnout becomes a real concern when the work day doesn't have the defined boundaries of arriving at an office every morning and leaving at night. For remote workers, it can be hard to separate work time and space from their personal time and space. In that setting, it's difficult to disconnect from devices, tempting them to log in and work when it would be healthier for them to relax.
Tech Support & IT
Employees who work remotely often have to do their own troubleshooting. Some employees may not have the hardware they need, like routers, to make sure their connection is stable. Any remote working setup will by necessity require plenty of technical support.
and roles. Define how and how often should managers connect with remote workers. 
Benefits of Remote Work
It's important to take each of the challenges in remote work in stride, and remember the many positives of remote work in addition to staying safe and healthy during a pandemic.
Remote Work is Green
Companies can institute remote work policies as part of their environmental sustainability initiatives. This results in reduced car traffic, less energy use in offices, and a smaller real estate footprint.
More Employees to Choose From
A company that hires remote employees can cast a wider net when recruiting talent. They can hire someone who lives in a different city, or even a different country, without persuading (or paying) them to move. This is an important advantage when recruiting for a specialized skill set.
Expanded Workforce Diversity
Diversity initiatives are also a big part of contemporary corporate culture. An important goal of these programs is hiring people who are differently abled, but it's difficult to accommodate people who have disabilities that prevent them from commuting to the office.
Important Remote Work Considerations Checklist
Overcoming the challenges of remote work comes down to providing employees with the tools and resources they need to efficiently and effectively work remotely, and keeping teams connected.
Set Goals & Expectations
It's essential to make sure objectives are clear to all team members. Beyond applying SMART (specific, measurable, achievable, realistic, and timely) goals, there should also be regular check-ins to see how people are progressing (both personally and professionally), and discussing ways of resolving challenges while providing ongoing support. Things to keep in mind while creating a remote work policy:
Make sure communications are open – Whichever methods you use to measure productivity, let your employees know about them. If they're going to be assessed on time spent on a project or how many touches they took to make a sale, make sure they know what those metrics are.
Remain organized – Making sure that task management is clear and organized around a central hub or platform. Assign tasks, discuss progress as a team, and see how much progress has been made. Having a visual representation often helps managers understand what adjustments might need to be made.
Drive results-driven productivity – This means looking more at the end results of a task or project than how it was achieved. Embracing remote work means trusting employees to work in a way that suits them in order to achieve results and outcomes.
Make Security Your Priority
Previously, remote work was considered a security risk, and the increased usage of video conferencing applications in the pandemic augmented those concerns. Zoom has many known security issues, and the need to protect a network and work calls from intrusion has become vital.
In the absence of a secure and centralized computer network, businesses need to be explicit about how employees are expected to handle confidential business data and assets. Make sure you create a solid system of policies and provide employees with access to the right data security tools and technology.
Communication is Key
Clear communication is a must in a remote work environment. For many workers, that means outlining expectations for all departments and positions. Decide how managers and employees communicate with each other and how often. This means establishing secure methods of communication and educating employees on how to use them. Many businesses use video chat and call software like Skype for Business and Zoom, but recent security issues highlighted the importance of secure video conferencing and remote work collaboration tools like Call2Teams.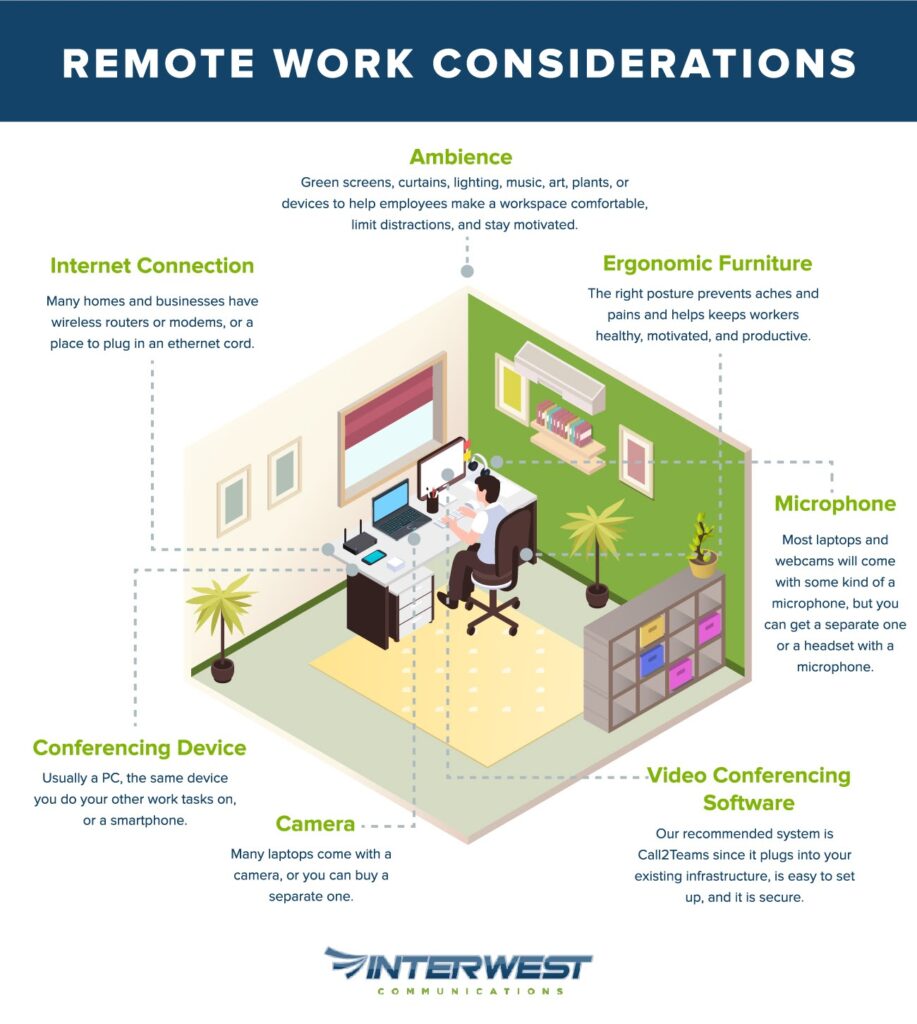 Give Employees the Remote Work Equipment They Need
No matter what systems or programs you opt for, there are a few essentials that every employee is going to need. Ensuring employees have access to these items will significantly streamline any attempts at integrating remote work company wide.
Video conferencing technology, like Call2Teams, is particularly important for remote workers to feel engaged and supported, and remain productive during pandemic isolation.
Video conferencing provides a more complete social experience for more effective communication and teamwork. Text on a screen or words over a handheld are not always enough to properly express the whole sentiment being conveyed. Worse still, employees and colleagues can often misconstrue the tone or intention of messages sent over text.
In addition to the words used, the tone of voice, inflection, facial expressions, and body language are all important parts of personal communication. Being able to see and hear a manager or colleague in real time provides that layer of personal interaction that you don't get over the phone or through Email, which is key for successful collaboration. Quality video conferencing also helps managers stay in tune with employees and maintain a modicum of normalcy. Video conferencing technology, like Call2Teams, is particularly important for remote workers to feel engaged and supported, and remain productive during pandemic isolation.
Video Conferencing Hardware
The actual device employees will use is a key part of a remote work to consider. Preferably, this should be a company computer with appropriate security software, but at a minimum employees can use a company smart phone.
Smartphones are capable of video calls, but we don't recommend them for all your remote work and video conferencing. While they are convenient for conducting business on the go, their handheld quality can become tiresome for longer calls and multitasking. Beyond that, they have limited conferencing abilities and tools a personal computer has for presentations, work tasks, and collaboration, like screen sharing. Many times, employees need to be able to do other tasks when video conferencing, so a smartphone alone won't cut it. Plus, the screen size and call quality can be an issue. Nobody likes it when their images freeze or only static comes through the speakers in the middle of an important meeting.
Additionally, consider issuing company devices to remote employees, rather than have them using a personal device. This may seem appealing to cut back on certain costs and liabilities, but it's not worth the potential security risks and is going to inevitably open you up to headaches down the line, whether the technical or the interpersonal kind. Personal devices are a data security risk because of the uncertainty of their security measures and the inability for IT to monitor them and respond to a security issue.
Video Conferencing Camera
What would modern video conferencing be without a quality lens backing the entire system? Gone are the days of grainy video feeds, now video calls can be conducted remotely with lifelike realism and accuracy.
Again, employees can typically lean on company computers or cellphones, but if their devices are not equipped or have low quality systems there are a variety of standalone video cameras you can use. If you've been in business for a while, you may have multiple batches of legacy computers you've purchased over the years, and rolling out one video camera standard across the board may prevent issues down the line.
Finally, although ensuring video quality is important, it may not be the most important part of the feed. It is often the first thing that people think of, but after the basic infrastructure for setting up conferencing bad sound quality tends to be the biggest complaint we hear most often.
Video Conferencing Microphone
Microphones are typically the most important hardware for conference calls, and the achilles heel of any system. A bad microphone will probably be more annoying than any other weak piece of equipment in the chain.
Most devices come with some kind of a microphones, but aside from more expensive laptops like say, MacBook Pros, or ThinkPads, it's often an afterthought. Likewise many webcams will come with microphones, but these can often be worse than what's on laptops or smartphones.
Luckily, there are a variety of USB devices and high quality microphones on the market now that make it easy to roll out one standard for employees.
Remote Work Ambience
Ambience is not only important for industries like restaurants and hotels, or customer-facing aspects of a business, it's important to employees as well. Office ambience is frequently overlooked, with most businesses prioritizing the customers' perception and interactions with the company, over that with the office setting for employees. Working from home can be a gift, or a nightmare depending on who you ask. Working from home poses unique challenges, as well as some unique opportunities. Some employees report missing the formal office setting, because they find it difficult to separate home and work, which causes issues with productivity and stress. Some employees prefer the casual setting and enjoy having maximum control of their environment.
Implementing remote work is the time to help employees create a home office environment for maximum productivity and efficiency. This can include providing things like office furniture, noise cancelling earplugs, light fixtures, or stationary.
When it comes to creating a video conferencing setup, providing employees with items like green screens or curtains may not be a necessity for operations, but a helpful tool out of consideration for employees, and in keeping a professional setting. It's a good option to make sure that employees don't feel anxious or awkward about showing off their home setup if they don't have to.
Anything that helps make employees feel more comfortable and limit disruptions or distractions can be helpful to productivity. Similarly, slow internet connection can throw off the efficiency of meetings for all those involved. While employees are generally expected to have a reliable remote work environment, consider those who do not have access to stable WiFi or phone service.
According to Stanford economist, Nicholas Bloom: "…only 65 percent of Americans reported having fast enough internet capacity to support workable video calls. The remaining 35 percent have such poor internet at home – or no internet – that it prevents effective telecommuting."
A quality internet connection is a must for remote work and video conferencing, and if employees are struggling in that regard, employers should consider offering incentives to upgrade, or reimburse employees. In any case, you must develop a process to approve work-at-home environments. This will help you ensure the security of your business data and the productivity of your stay-at-home workers.
For any business owner trying to get multiple employees set up with a remote work solution it's important to remember, future proofing and standardization are your friend. It's best to ensure you have one selected set of hardware and software solutions that can scale and will last, are cost effective, secure, and will plug into existing infrastructure. There is a variety of purpose built, all-in-one solutions worth investigating, which only need an ethernet connection.
Additionally, business owners will need to give employees access to the right security applications and project management software. Staying connected with the workforce means more than back-and-forth via Email and phone, it means integrating remote and video driven collaboration technologies, like Call2Teams.
Video Conferencing Software
The next key piece of this puzzle is the actual software you use to bring this all together. Widely available solutions like traditional line conference calls, or free tools like Google Hangouts or Facebook Messenger rooms will work in a pinch. Many people utilize tools like Zoom or GoToMeeting, but for the best results, we'd recommend using a tool focused on the professional collaboration. Our recommended system is Call2Teams because it plugs into your existing infrastructure, is easy to set up, and most importantly, is secure.
In the scramble to prepare for initial lockdowns in 2020, many businesses were figuring things out on the fly. While that may have been necessary, it doesn't mean that you didn't open up massive security risks. It is imperative that businesses weigh the potential liability and IP risks they're taking when utilizing many of these platforms. 
Call2Teams for Remote Work
Call2Teams is an accessible and secure application that integrates remote work and modern video collaboration into your current infrastructure, that allows employees to travel and consistently engage with their managers and teams.
Virtually Connect with Call2Teams
Call2Teams allows you to enjoy modern video conferencing on any device, and remote work collaboration without disrupting your current hardware setup, or initiating any costly updates. The software utilizes existing phone numbers and hardware systems while adding in remote video and collaboration through Teams on PC, Mac, and mobile. Once set up, you can manage the entire system from an easy-to-use web portal.
Call2Teams is Secure
Call2Teams is fully secure and approved for use on leading PBXs. Previously, remote work was considered a security risk, and the increased usage of video conferencing applications in the pandemic augmented those concerns. Zoom has many known security issues, and the need to protect a network and work calls from intrusion has become vital. Normally you'd have to deal with setting up firewalls, anti-virus applications, a private network, and cabling.
But, with Call2Teams, businesses can extend their secure and centralized computer network with encrypted data transfers, antivirus software, and multi-factor identification to remote workers. A service like Call2Teams paired with quality security protocols, will help you make sure that work keeps running smoothly without intrusion or interruption.
Call2Teams has Subscription-Based Pricing
Avoid costly upfront investments in lengthy projects. Call2Teams instead utilizes a pay-as-you-go subscription for individual users. Interwest can customize a plan to fit your business, or you can choose from one of our standard plans:
Professional Plan
Local Support Technicians
On-site installation & training
Keep existing numbers
Unlimited Nationwide Calling
HD Voice
Voicemail to Email
Premium Plan
All Professional Plan features
Mobile App
Find Me / Follow Me
Fax to Email
If you've been on the fence about how to proceed as we enter this new normal of rolling lockdowns, then a simple cloud platform like this can solve all your worries.
On Premise PBX includes professional features plus:
All Professional and Premium Plan features
Higher initial cost to get your PBX hardware installed on-site but lower monthly costs
Ideal for a larger organization that already has the infrastructure, bandwidth, and network settings required to host a phone system
Call2Teams is Easy to Use
Call2Teams is convenient, centralized, and accessible. Everyone knows what a nightmare new technology adoption can be, especially with a diverse workforce with different levels of experience and technical know-how. It's absolutely essential for a thriving workplace to have tools and equipment that are easy to use, so everyone can focus on work. Interwest Communications goes above and beyond to ensure that all the training and assessment needs for new tech are met, so your business doesn't experience significant downtime.
Save time on training for all new systems, and headaches for IT departments with a simple cloud service. Avoid the hassle of dealing with multiple new systems across many different devices on remote networks, by integrating the current infrastructure with new technology, and manage them from one convenient centralized access point. Our team can work with you to assess your existing set up, and painlessly complete the integration process.
Interwest is here to help employees stay connected during these uncertain times with video conferencing technology that allows them to get the work done from home, with little cost and no time lost. Take a look at our blog to learn more about how interwest helps businesses stay connected and secure, or get in touch with us.